Jul 13, 2022 09:13 PM Central
Jodi Grace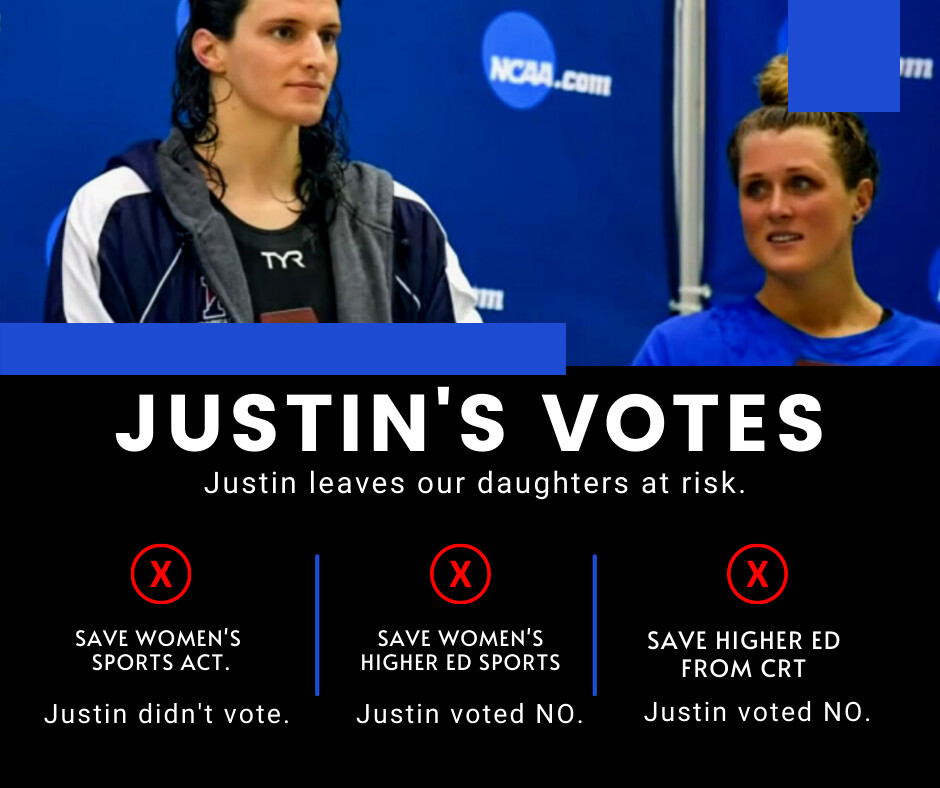 why not senator justin brown?
Let's keep it simple, because there's a lot of info and it's easy to get overwhelmed. We'll keep it in list form and number the blogs so you won't miss anything.
1. he votes with democrats 85% of the time.
Check out this scorecard. We tracked 21 votes over 2 years. Out of those 21 votes, he only upheld the Republican platform 3 times. You can download the scorecard and print it out if you'd like to see the details more clearly.
In this scorecard, every senator listed is a Republican. Red circles represent a vote that upheld the Republican platform and blue circles are votes that did not. The blue circles are votes that show how the RINOS & Democrat Senators voted. Remember, though, no democrats are actually listed on the chart.
The important thing to see is how many blue votes there are overall from our Republican senators and how many blue votes Justin had. There are two red arrows pointing to Justin's line on the chart which is also highlighted in yellow.
If you have questions about specific votes, I'm happy to answer those for you. Shoot me an email at
jodi@mofreedomfoundation.com
and I'll get back to you as soon as I can.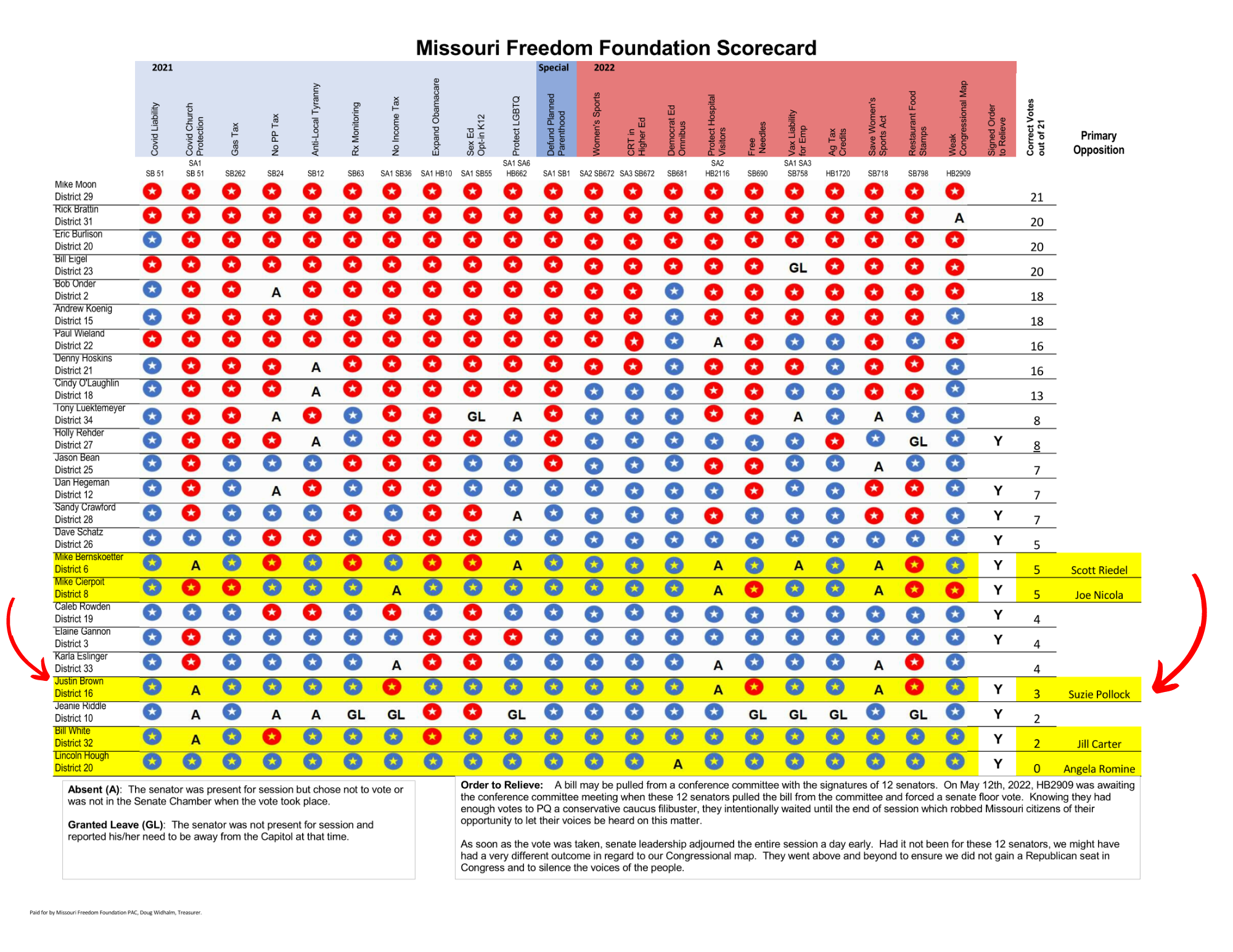 2. twice in 2022, he opposed protecting our girls!
I want to highlight 2 votes in particular that were taken this year and explain them. There is a LOT of spinning going on and you deserve to know the TRUTH.
Senate Amendment 2 to Senate Bill 672.
You can see this vote in the first column of the dark pink section.
SB 672 was called the Fast Track bill. It funded a higher education program related to workforce development. On February 15, 2022, Amendment 2 was offered by Senator Mike Moon. It said that any institution taking these funds would be required to protect their female athletes by BANNING boys from playing in women's sports at their institution IF they wanted to take those government funds.
How would you want them to vote? I wanted them to PASS that amendment and protect our girls. It would've only been a start, but starting is better than nothing.
Instead of passing the amendment, they chose to kill it. They voted to "lay it over" which meant that the amendment died. What the RINOS want you to believe is that they didn't vote on the amendment and it was all about procedure. They say the amendment language needed to go through committee first so they didn't want to vote on it on the floor.
RINOS say, "I didn't vote against it. I voted to lay it over so it could be vetted in a committee."
You can see how many voted to table/kill the amendment (blue votes) and how many voted for the amendment to move forward (red votes). Justin voted with the RINOS and the democrats. The Conservative Caucus wanted the amendment to pass, which would have offered protection for girls attending those specific schools.
SB 718. The Save Women's Sports Act. This vote is the 19th column of votes, 3rd from the end.
On May 11, what turned out to be the last day of session for the senate, Senator Moon again offered up The Save Women's Sports Act as an amendment to SB 718.
This was nearly 3 full months after the first vote on February 15th. They had PLENTY of time to "vet" the language. But did they? NO.
Bless Senator Moon's heart, he tried again to pass the language that would protect our girls. And AGAIN, most of the Republicans voted with the democrats to leave our girls unprotected and at risk.
But check out Justin's vote. He was ABSENT. That doesn't mean he was sick. It means he was at the Capitol that day, he was working but he CHOSE NOT TO VOTE. You'll hear people refer to this as "they took a walk" meaning they walked out when it was time to vote.
Why would he choose NOT to vote at all?? Because by May 11th, he knew he was being primaried and he didn't want to be held accountable for a NO. He understands what most of you do not - Senate rules. And the rules say they can abstain from voting if they choose even though it gets recorded as "Absent." IF you bother to look up the vote you'd assume he just wasn't there because it's listed as "Absent."
This vote is upsetting because not only did he NOT protect the girls, he purposefully tried to weasel out of any chance he'd be held accountable at the polls. The RINOS aren't happy that the Conservative Caucus required so many roll call votes this year. Roll call votes mean you can see how they voted. They'd much rather take a simple voice vote so their personal votes aren't recorded in the journal.
Let's get back on track.... the important thing is

TWICE in 2022, Justin Brown FAILED to protect our Missouri daughters and granddaughters. He voted (or abstained) in a way that KEEPS
boys playing in girls sports!
The bottom line is that this issue was NOT a priority to Justin or any of the other Senate RINOS. It was ONLY a priority to the Conservative Caucus.
They DID pass a giant education bill and even then they did not "vet" the women's sports language so they could add it OR any CRT ban. They played nice with the leftists to get a Christmas tree bill across that line that actually did more harm than good and included NO PROTECTION for our children!
Jul 7, 2022 09:13 PM Central
Jodi Grace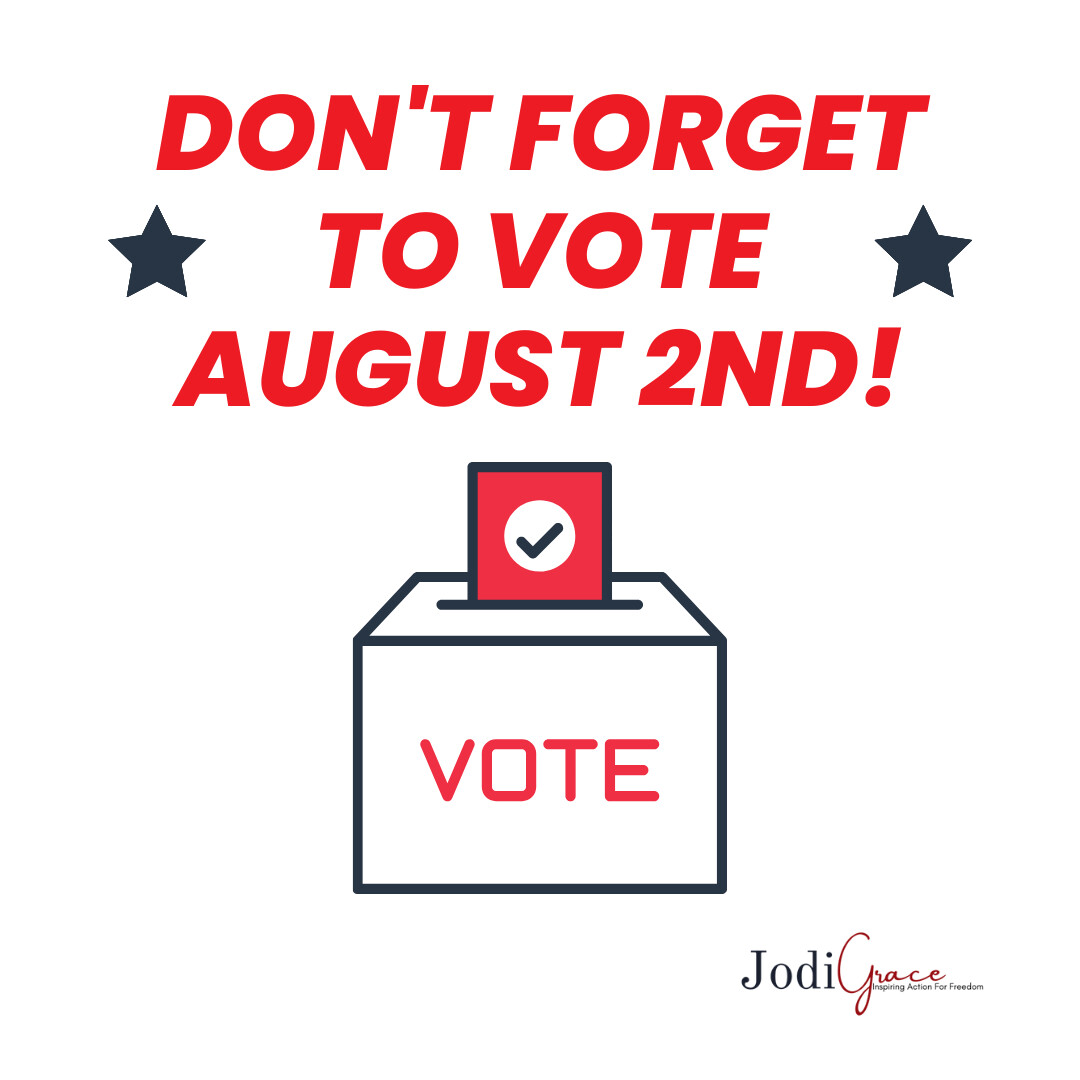 There is no doubt that the Missouri Senate, specifically Missouri's Republican Senators, are at war. It's quite a tale to tell and the current primary campaign season has added another ring under the Senate Circus tent. We are down to 26 days to the primary and things are heating up here in the Show Me State.
There's so much campaign clowning around and illusion performances going on it's hard to tell what is real and what isn't, but make no mistake this is not fun and games.
I've been inside the Capitol for two sessions now, tracking legislation, votes and keeping tabs on conservative issues. I've gotten to know leaders of grassroots organizations around the state as well as legislators in both chambers. Although every issue has multiple sides, in most cases this really isn't rocket science. Either our Republican legislators are consistently voting according to the platform they ran on - or they aren't.
The Republican Primary on August 2nd is THE place where we let the politicians and the GOP know what we think!
From now until then, I hope to share some information on a few of these elections before you go to the polls. Be sure to follow and forward to your friends across Missouri!!
Every even numbered MO Senate District is up for re-election this year. The maps did change, so it's likely your district is a little or a lot different than it has been before. Here's the new map.
Find your county on the map then zoom in to see the district number. If you live in an even numbered district, you NEED to VOTE AUGUST 2ND!!
If you're not interested in the inside scoop but want to cut to the chase of who is a RINO and who isn't, here ya go.
My personal endorsements are in red. I believe these to be true conservative choices who have already upheld the Republican platform with their votes as an elected official or they have pledged to do so.
If I could vote in all these races, the names in red are who I would choose.
District 2 - NICK SCHROER v John Wiemann
District 4 - Mary Theresa McLean, unopposed
District 6 -
SCOTT RIEDEL
v Mike Bernskoetter
District 8 - JOE NICOLA v Rachel Aguirre v Mike Cierpoit
District 10 -
BRYAN SPENCER
v Joshua Price v Travis Fitzwater
District 12 -
J EGGLESTON
v Rusty Black v Delus Johnson
District 14 - No Republican on the ballot
District 16 -
SUZIE POLLOCK
v Justin Brown
District 18 - Cindy O'Laughlin, unopposed
District 20 -
CURTIS TRENT
v Brian Gelner
District 22 -
MARY ELIZABETH COLEMAN
v Dan Shaul v Shane Roden v Jeff Roorda
District 24 - George Hruza v Brett Schenck
District 26 -
BEN BROWN
v Nate Tate v Bob Jones v Mary-Noella Skaggs v Jason Franklin
District 28 -
JAN ARNOLD
v Sandy Crawford v Bill Yarberry
District 30 -
ANGELA ROMINE
v Lincoln Hough
District 32 -
JILL CARTER
v Bill White
District 34 - Tony Luetkemeyer, unopposed
Stay tuned to learn more about a few of these races!