Jan 28, 2022 11:12 AM Central
Jodi Grace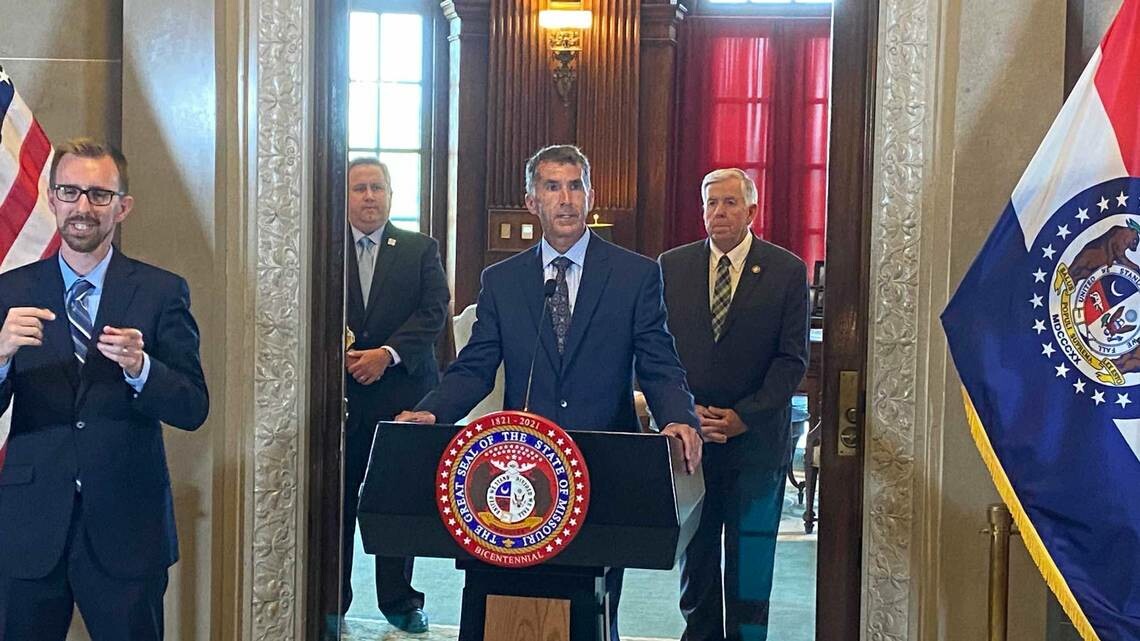 These posts are being broken into a series in order to help keep information organized and digestible. Please accept my apologies now for the amount of information that is coming your way in such a short time frame.
who is kauerauf?
Donald Kauerauf is Governor Parson's pick for Director of the Missouri Department of Health and Senior Services. And it's a HORRIBLE choice!
Mr. Kauerauf (pronounced kuh-ruff and referred to hereafter as DK) hails from the state of Illinois, where tyranny & corruption reign! Here's a few bullet points you might find on his resume.
30 years in public health
Illinois Terrorism Task Force chairman throughout Covid crisis
Deputy to the Illinois Governor's Homeland Security Advisor
Policy Advisor to the Illinois Emergency Management Agency Director
Asst. Director of Illinois Dept of Public Health, 2016-2018
So, DK has a lot of experience advising and assisting high officials in Illinois.
Red Flag #1 - Illinois. That should be enough to cause some pause. Illinois. The home of crime & corruption. Gun restrictions. Crazy taxes. And some of the worst, most restrictive Covid lockdown measures in the nation. I've never heard one Missourian say they really wished they lived in a place like Illinois!
DK is married to Judy who, like Anthony Fauci's wife, is also involved in public health. Judy is the Communicable Disease Section Chief at the Illinois Department of Health.
What has Judy has been up to these last several months? I'm so glad you asked!
She's been busy with a company called Shield T3 setting up a pilot program at the University of Illinois. Shield T3 has served those college students by helping them implement a "Do-To-Do" program. This is behavioral training where you are required to DO something in order to be allowed TO DO something else.
Here's one example: Be vaccinated or test twice a week in order to GET TO... go to the school library, workout at the school gym, go to the ballgame, eat in the restaurant, go to class, etc etc.
shield t3 & their vaccine passport information
This
Shield T3 Powerpoint Presentation
gives you all the scoop about how this system worked for the University of Illinois and what their plans are moving forward. The University was a pilot program. Biden wants it rolled out across the nation.
Shield T3 provides a phone app where all your health information is downloaded, it provides nearly instant tracing services (let's call it TRACKING), and it literally gives you access or denies access to what most would call daily activities.
The real name for this is VACCINE PASSPORT.
Red Flag #2. DK's wife is highly connected with public health and has worked to implement vaccine passports in IL colleges as well as "Test to Stay" programs in K-12 districts across the state of Illinois.
In fact, DK has already stated that he is IN FAVOR of these types of programs here in Missouri!
Red Flag #3 - The timeline. There's more, but here's a critical snippet.
June 25, 2021. Shield incorporates in Missouri and prepares to do business.

July 2021. Governor Parson appoints DK to Director of DHSS
This is really the tip of the iceberg. For now, I'm leaving you with a few links to some investigating for yourself.
The next blog article will give you details about what you can do to try to prevent this man from taking a permanent place in our public health system.
Jan 24, 2022 05:56 PM Central
Jodi Grace
are you concerned about healthcare options in missouri?
In order to open a new hospital, surgical center, expand services or even purchase equipment that costs more than $1M, a government committee must approve the request. And guess what? YOUR COMPETITORS get to comment on whether or not that request should be approved.
We need to FREE THE HEALTHCARE MARKET in order for new creative options to be able to come fruition. Abolishing the Certificate of Need (CON) will help.
two ways to help
1. Tell your story in person at the Downsizing State Government Committee hearing. The hearing is taking place on Wednesday, January 26th at Noon in the Capitol. If you'd like to testify in person, please email
wtpmoleg@protonmail.com
to let Angelique know you'll be coming.
2.
Submit your testimony online in support of the bill
. EVERYONE should submit a testimony to let our legislators know your position on this bill. Keep it short and to the point, but be clear that you SUPPORT the bill and want to see the CON removed and the healthcare market FREED. Be sure that you check the box for HB1616.