Mar 15, 2023 04:32 PM Central
Jodi Grace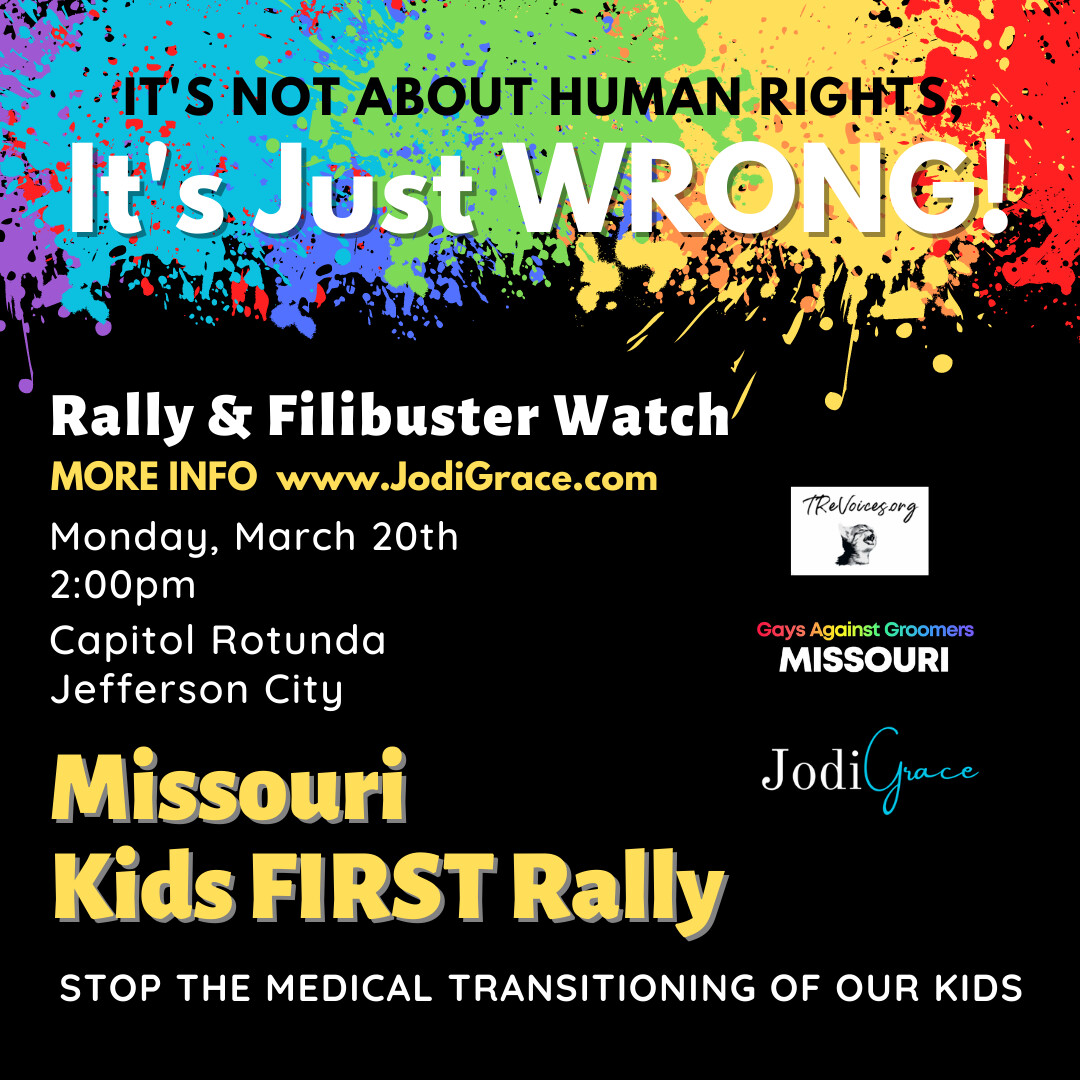 where would you find homosexuals,

transexuals & evangelicals together? Here. locking arms for the kids.

making history
Come join me for a history-making kind of a day where people from a variety of backgrounds, lifestyles and religions are going to lock arms for the fight against the far left agenda that is targeting our children. SB 49, sponsored by Senator Mike Moon, is a ban on puberty blockers, cross-sex hormones & gender surgeries for children. Our legislators aren't getting the job done so it's time to take a stand!
We have an amazing day planned and it's getting better by the hour! I'd love for you to come stand alongside us for the benefit of Missouri's most precious treasures - our kids.
All events will take place here at the Capitol in Jefferson City, MO. They are free and we'd love for you to come with a car load, van load or even a bus load of your favorite people. Share this with your civic groups, your BFFs, your Sunday School class & anyone else who wants to join.
It's going to be a super fun day full of inspiration, great speakers, food & friendship.
Prayer & Praise in the rotunda
Lunch will be on your own. If you register to attend, I'll send you all the details you need about food options downtown within walking distance from the Capitol.
Missouri Kids FIRST Rally in the rotunda. You'll enjoy a great group of people, motivating speakers & a few office holders, including our favorite Missouri Senators who are standing firm for our kid's sake. So far our special guest list includes:
Scott Newgent, featured in the documentary What is a Woman? and in this NY Times article.
Chris Barrett, Missouri Chapter Leader of Gays Against Groomers
Catherine Dreher, Vice Chair, Missouri Libertarian Party & Mom
Adam Dommeyer, Turning Point USA Faith
Pastor Kirk DeMars from House of Prayer, Jefferson City
Senator Mike Moon
Senator Bill Eigel
Senator Jill Carter
Senator Andrew Koenig
Plan to stay and watch the Senate at they convene. Let's see what happens!
Yes, I may be there overnight & I hope you'll join me. It'll be like our own version of Night at the Museum, only ours is The Night in the Capitol. LOL
Our hope is:
Senator O'Laughlin calls SB49 to the floor.

Democrats filibuster all night while the Republicans hold their ground for a ban that includes puberty blockers, hormones & surgeries. We need a bill that is constitutional - NOT rolled up with another unrelated sports bill.
It's possible we might see:
Senator O'Laughlin might not call the bill to the floor at all.

If O'Laughlin doesn't call it to the floor, it's possible the conservative senators would filibuster to hold the floor until she does.

Although I don't think it's likely, it is possible that O'Laughlin would NOT call up the bill and the conservatives DON'T hold the floor. This is my least favorite option.

Senator O'Laughlin adjourns early during the democrat filibuster.
Whatever happens, come & plan to stay as late as you can. You won't want to miss the fun!
Many different faiths, lifestyles and backgrounds will be represented here on Monday. It's obvious we don't agree on some things. We believe that's ok.
We DO agree, however, that children should not be victimized by the destruction caused by puberty blockers, cross-sex hormones or transition surgery before they are old enough to understand the full consequences of their actions.
Monday, we will be unified in our message of love, hope and protecting children. Monday - nothing else matters. Missouri Kids come FIRST.
Please post & use across all your platforms. #standtogether4kids
Twitter image: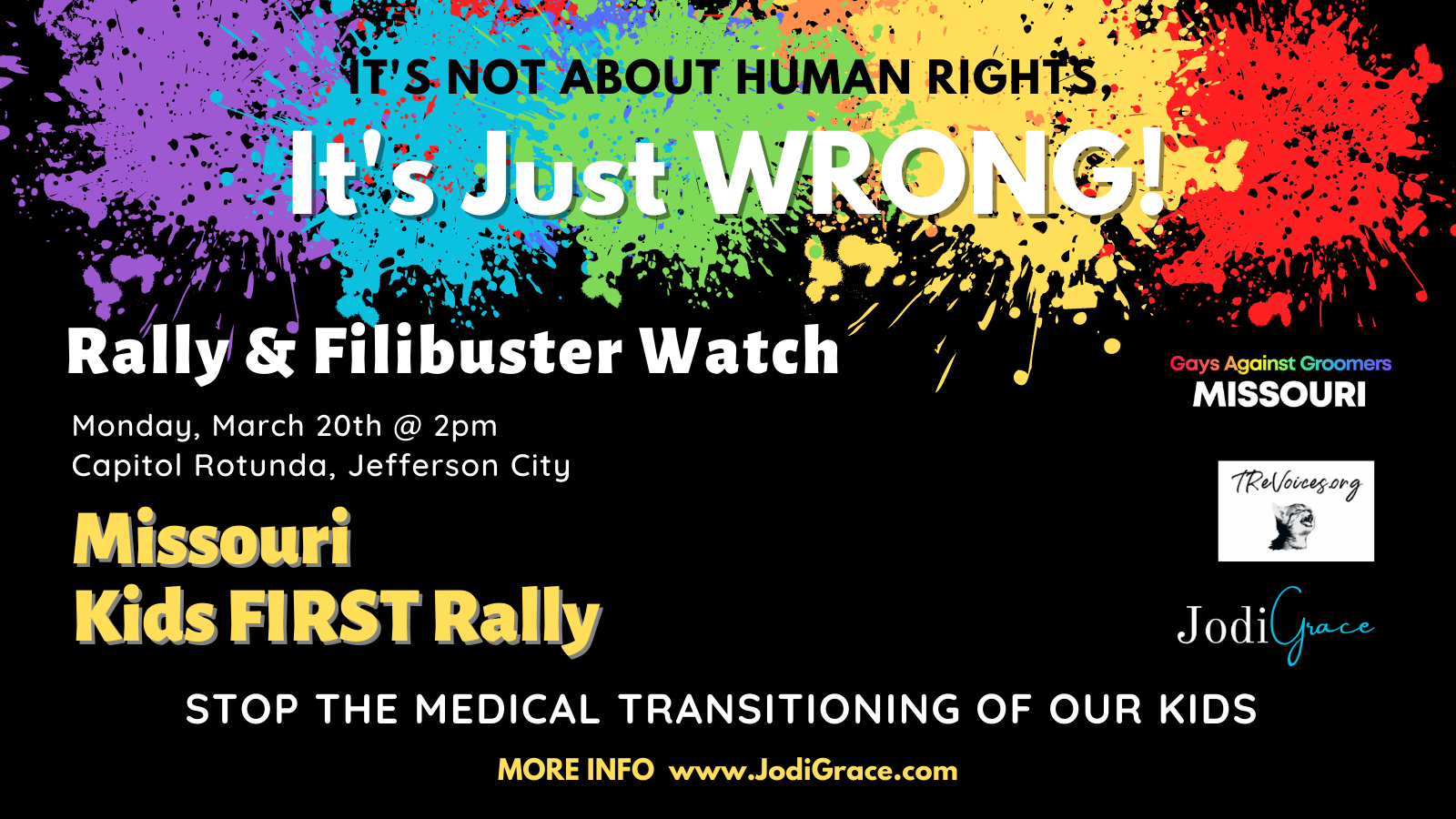 Insta/FB image: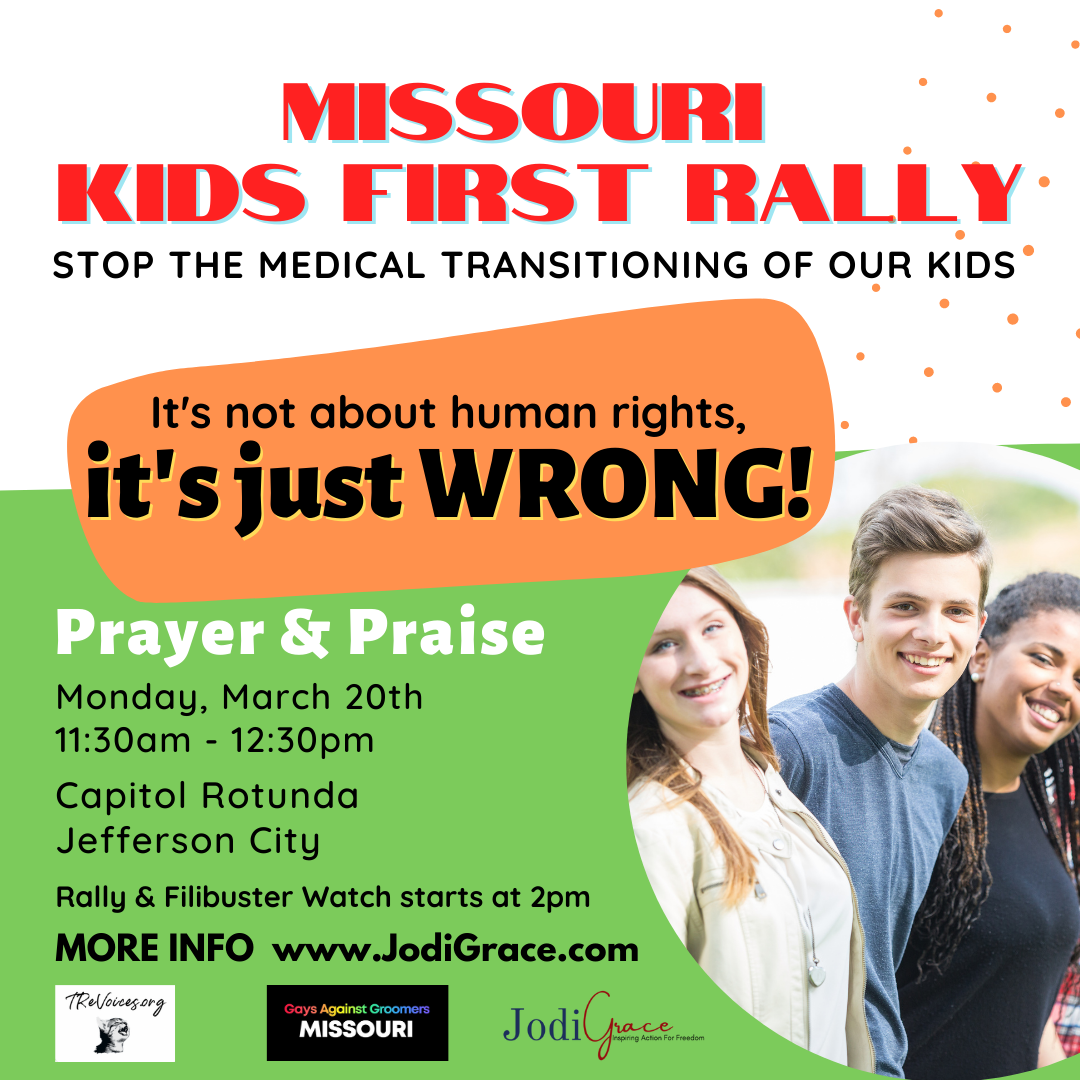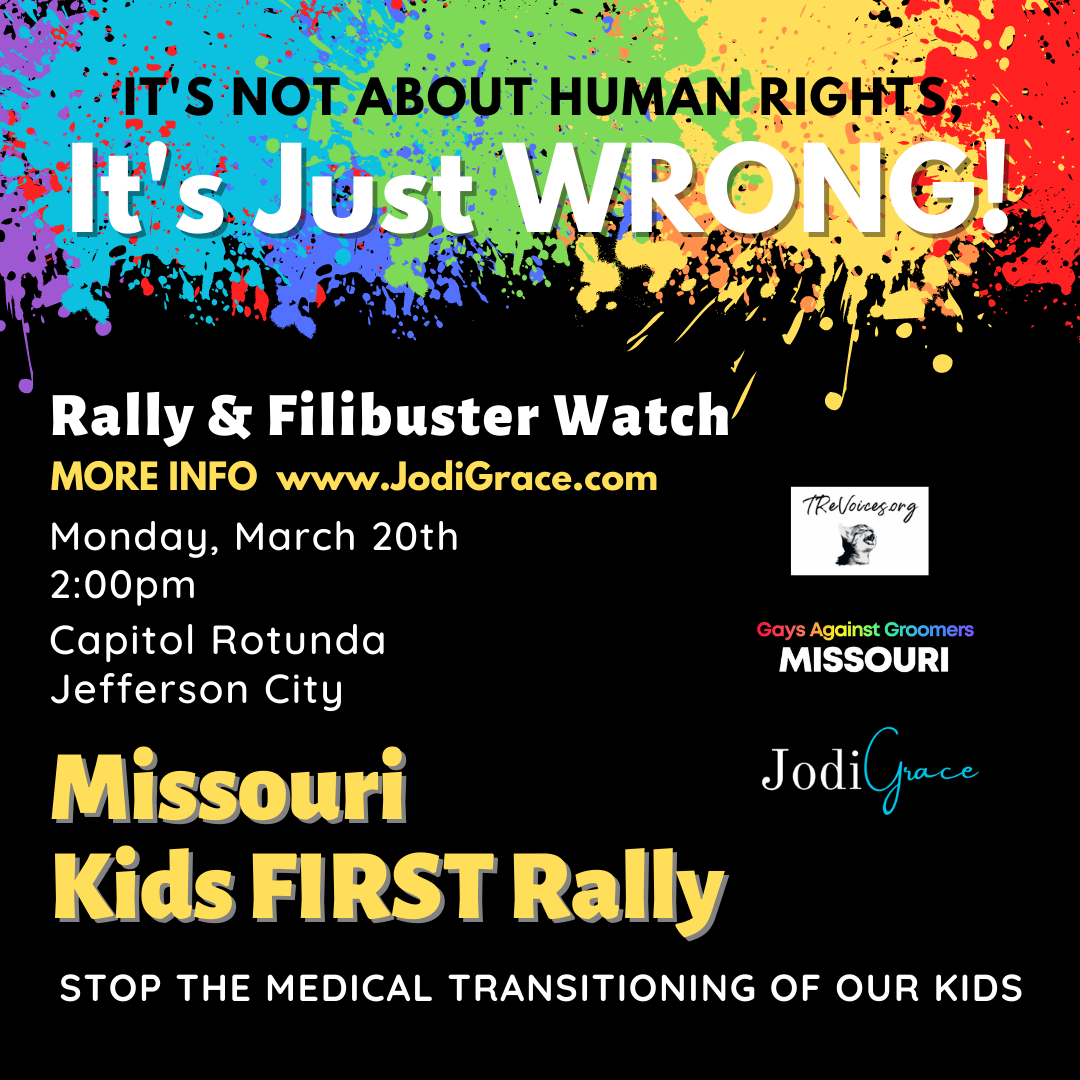 Stories: