Feb 11, 2022 11:11 PM Central
Jodi Grace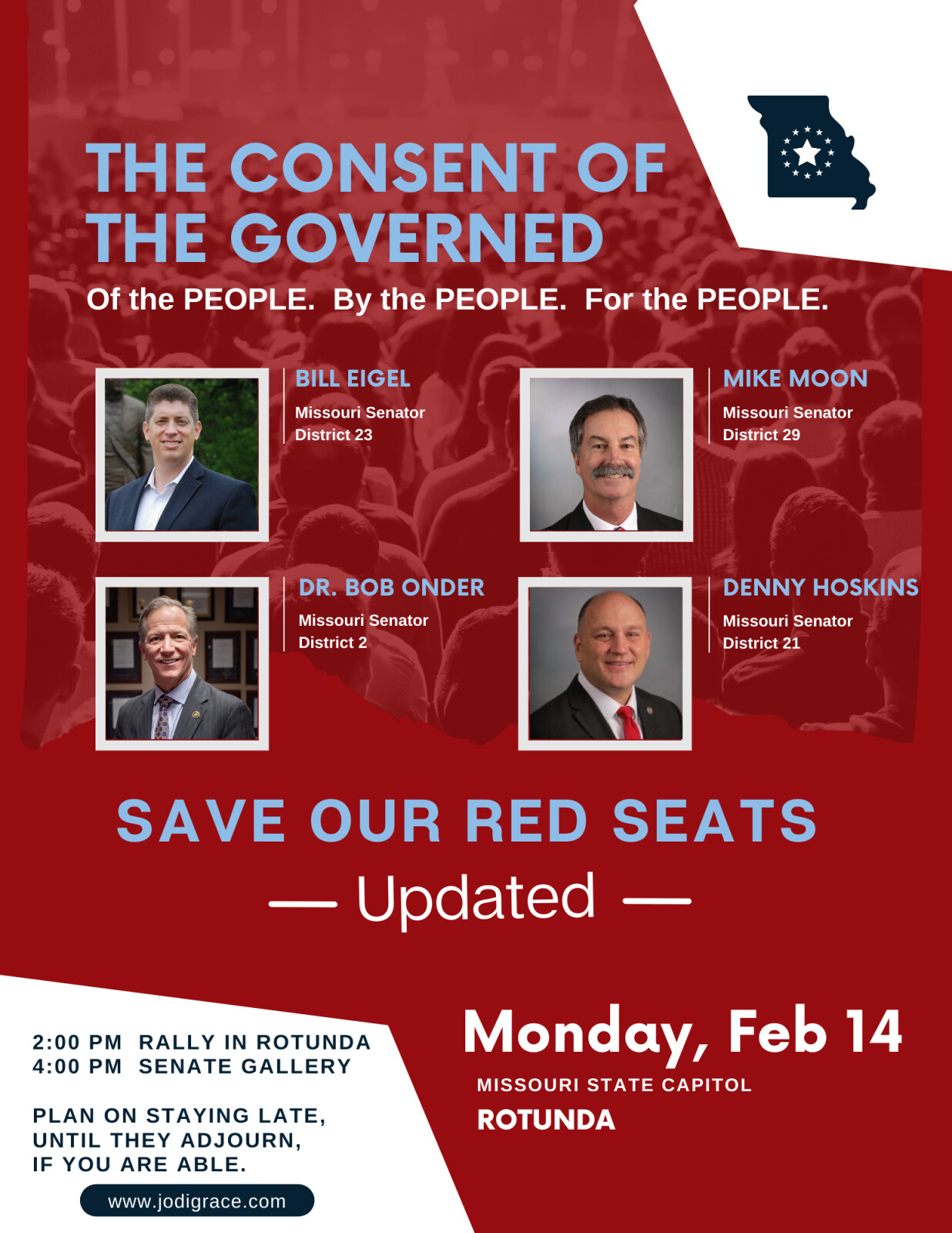 updated rally info
Our speaker lineup has changed!
We're excited that Senator Hoskins will be able to be with us as well as Senators Onder, Moon and Eigel.
It's come to our attention that there is another rally happening on Monday, February 14th. We don't want there to be any confusion so we have changed our label but the purpose is still the same.
We want our legislators to know...
We see their votes and they will no longer be forgotten.
We aren't going back to sleep. We are going to keep watching.
We are here to support our elected officials who vote and battle according to the Republican platform they ran on.
Speaking of our elected officials, Senators Bill Eigel and Mike Moon wanted to express their thanks and appreciation to you this past week!
monday, february 14th @ 2:00 pm in the capitol rotunda
Tentative Schedule
**Subject to change based on senate leadership
2:00 pm - Capitol Rotunda
4:00 pm - Observe in the Senate gallery
We will be watching the senate proceedings respectfully from the gallery. There are rules and behavior expectations in the gallery and we expect our guests to abide by them. You'll receive more information about gallery expectations when you sign up.
The gallery time is subject to change and could change at the last minute. Planning around the senate schedule is nearly impossible, so please be flexible. They are notoriously late, but the question will be, "How late?"
Please sign up below to let us know you're coming. We will communicate any changes, should they happen, and also send more detailed instructions and tips for our time together Monday.
PLEASE NOTE: Consent of the Governed rallies and events are a coordinated effort between Missouri citizens and grassroots groups who are dedicated to participating in and keeping watch over our Missouri legislature. We stand firm in our beliefs and we are committed to discovering and speaking truth in a peaceful manner that would make Martin Luther King, Jr. proud. We commit to kindness, treating others with fairness, never giving up hope while we do our part.