Jan 30, 2023 03:34 PM Central
Jodi Grace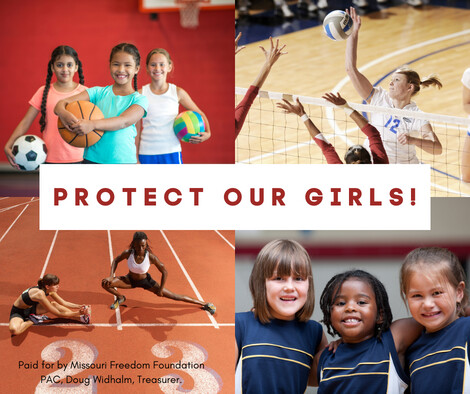 If you've been paying attending to Missouri politics this week, you know that girl's and women's sports is on the agenda.
the house
Last week, I attended the House hearing which covered several bills related to Missouri's kids as they relate to transgender issues. It was a long ordeal and I didn't make it to the end, but it was definitely quite an evening. I did go back and watch the rest of what I missed - I total of about 9 hours worth of bill presentations, testimonies and inquiries.
I highly suggest you take a few minutes of your time to watch. It was divided into three sections, for your reference. I've noted the approximate times to help you find the section you'd like to view.
1. Women's sports bills. (4:30 pm to 8:00pm)
2. Transition surgeries & hormone therapy/puberty blockers for children. (8:00pm to 12:00am)
3. Drag shows (12:00am to the end)
Scroll to the hearings on 1/24/23 and find General Laws. Click to open video window.
The House General Laws Committee will vote on those bills this week in their executive meeting, I expect.
The senate
The Senate is handling these issues a little bit differently. They are hearing the girl's sports bills only this week. The hearing is scheduled for Tuesday, 1/31/23 at 10:00am in Senate Committee Room 1.
They are hearing a total of six bills having to do with girl's sports. Below you'll find a list, linked to the bill text along with a bulleted overview for comparison.
My personal favorite is Senator Carter's SB 165 because she included bathrooms and locker rooms as well as provision for students to be able to bring suit against the school if the school is in violation.
Senator Mike Moon has actually carried this bill for the past few years. I applaud him for that. I like his bill, also.
Senator Denny Hoskins is a good conservative voter and we can usually count on him to be standing on the right side of things. He's great on the floor and a stand up guy we can trust, which is hard to say about most of these politicians. Props to Senator Hoskins for including specific language for intramural sports. I like this language and I feel that it allows for the opportunity to play recreational sports, experience the fun and teamwork in an environment that everyone is agreement with.
Senator Tony Luetkemeyer's bill is ok. What he has included is fine but it doesn't cover the necessary bases in my opinion.
Senator Ben Brown's bill is the only one to include ALL youth sports. Although it would include community organized sports and he does have specific provisions for intramural sports.
Senator Holly Rehder's bill is just BAD. I do not support it and I don't recommend that you support it. DESE should not be mentioned as they need to promulgate NOTHING. And there's no reason to refer to the amended version of the federal
Title IX
in the "Where As" section. This section shouldn't be considered enforceable law, but it does not need to be codified in this manner. Here's an excerpt of the proposed amendments to Title IX:
my opinion
For those of you coming to testify in the Senate Hearing, you are able to support/oppose multiple bills. Be specific in stating that information in your testimony. Personally, I would support Senator Carter's SB 165, Senator Moon's SB 48 and Senator Hoskin's SB 2. I would opposed Senator Rehder's SB 39.